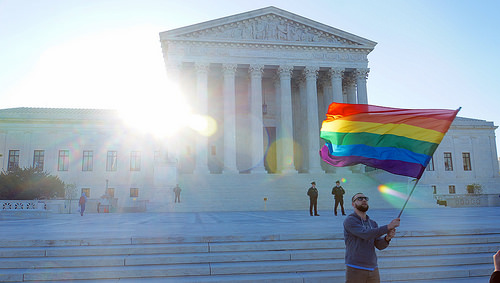 Sexual orientation discrimination is still too prevalent. Differing state and federal laws and protections require careful analysis and an experienced attorney to ensure that your rights are properly enforced.
Federal law prohibits discrimination on the basis of "race, color, religion, sex, or national origin." But does this include sexual orientation discrimination? For years, federal courts decided that the word "sex" does not include sexual orientation. However, there have been two relatively recent occurrences that have caused many federal courts to reverse course. First, Supreme Court rulings over the past couple of decades have expanded protections for individuals based upon sexual orientation. Second, the Supreme Court held that "sex" discrimination includes discrimination based on gender stereotypes.
These federal courts are deciding that, despite the fact that the word "orientation" is not located in Title VII of the Civil Rights Act, discrimination on the basis of sexual orientation is precluded under federal law. The basis for these decisions is often that failure to conform to "gender norms" is already a protected characteristic and that "sex" covers "sexual orientation" since changing the gender of the employee (and thus making them "heterosexual") would have led to the cessation of the discrimination. In other words, gay and lesbian men and women do not conform to so-called "gender stereotypes" and thus, discrimination against them is based on "sex."
Now, not every federal court has reached such a conclusion. In fact, in July of 2017, the 11th Circuit Court of Appeals expressly rejected this reading of the statute. This has created a split among the federal courts which may lead the Supreme Court to take up the issue and decide it once and for all. Importantly, the current Department of Justice reads federal law like the 11th Circuit and often files briefs in important cases to persuade courts to refuse to recognize sexual orientation discrimination.
However, practically speaking, it should thankfully not matter much for employees in Rhode Island and Massachusetts. State law already protects them from sexual orientation discrimination. Moreover, many employers in those two states have practices and policies prohibiting such discrimination. Plus, the Equal Employment Opportunity Commission (which enforces federal discrimination laws) continues to interpret federal law to allow for the enforcement of sexual orientation discrimination.
All of this highlights how important it is to ensure that you correctly allege a sexual discrimination claim. In order to maximize the chances that both federal and state regulators and courts will rule in your favor, you must have strong, experienced representation. Contact Enright Law to discuss your options and help you chart a course of action to enforce your rights.
(photo: https://www.flickr.com/photos/taedc/17113823229/in…)